Lot No. SC02655 / SUGAR CANE BANDANNA TOTE BAG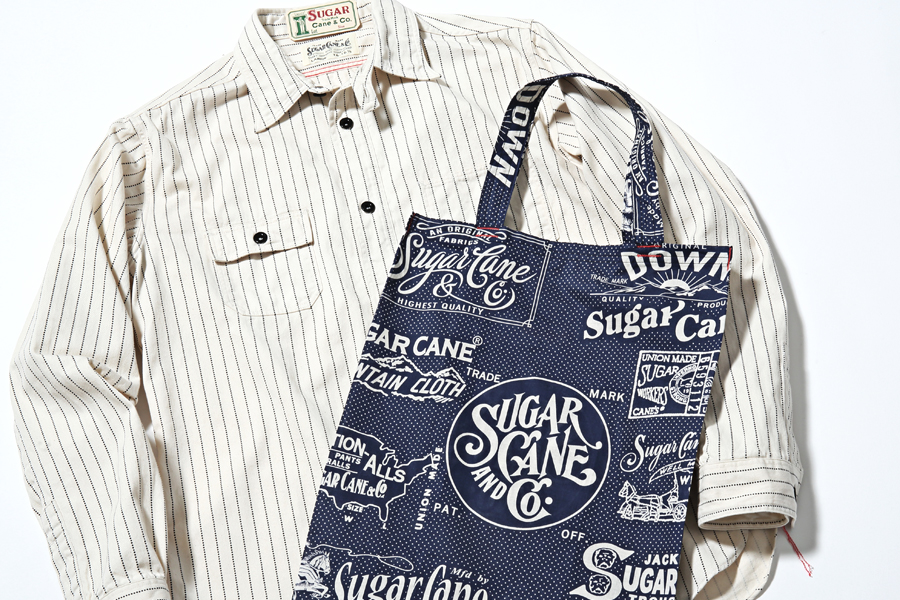 日本では2020年7月1日より、海洋プラスチックごみ問題の解決や地球温暖化の抑制などを目的として、プラスチック製買物袋(レジ袋)の有料化が開始された。その影響で注目されているのが再利用可能なショッピングバッグ、いわゆる「エコバッグ」である。現在、生地や形の異なる多種多様なエコバッグが発売されているが、ヴィンテージをベースとした古き良きアメリカンカジュアルスタイルにフィットするものはなかなか見つからない。そこで、シュガーケーンでは「ジーンズに合う買物袋」として、デニムと相性の良いバンダナでショッピングバッグを製作した。
Now a growing number of people are feeling a sense of agency to be more environmentally friendly, and starting thinking about seriously how to stop global warming or to help reduce marine plastic pollution. One of things we can do right now will be to use "Eco-Bags" (stands for Eco-friendly reusable shopping bags). As Sugar Cane feels the same and releases the shopping bags made out of our original bandannas that go very well with Sugar Cane denim.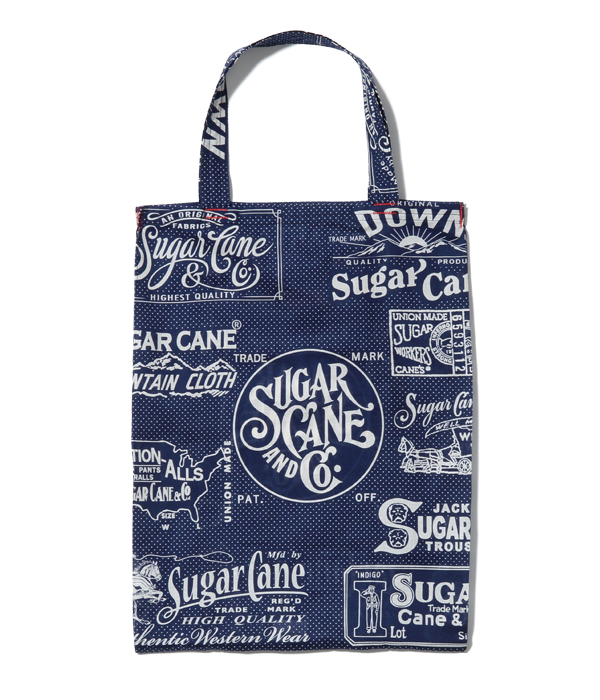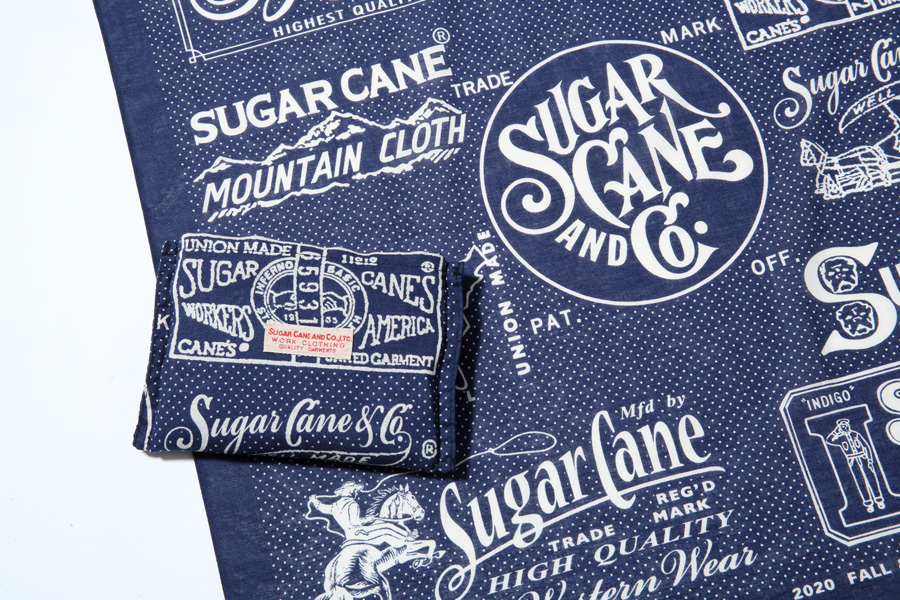 シュガーケーンのブランドロゴをコラージュしてプリントした非売品のバンダナを3枚使った贅沢な作りとなっており、内ポケットを利用してコンパクトにたたむことでジーンズのポケットに入れて持ち運びできる仕様とした。またバンダナ生地を使用しているので約60gと軽量なうえ、汚れても水洗いすればすぐに乾き、使い勝手が良い。
A bag is made luxuriously of 3 pcs of bandanna (not for sale) with Sugar Cane logo printed. Due to the bandanna fabric it is very lightweight (about 60 g), can be folded small to a pocket size, and dries fast after washed.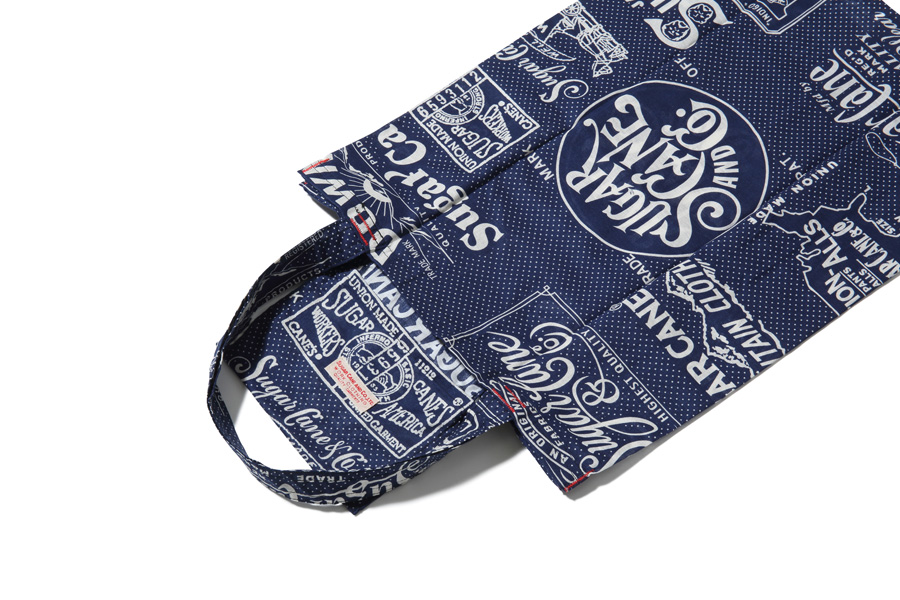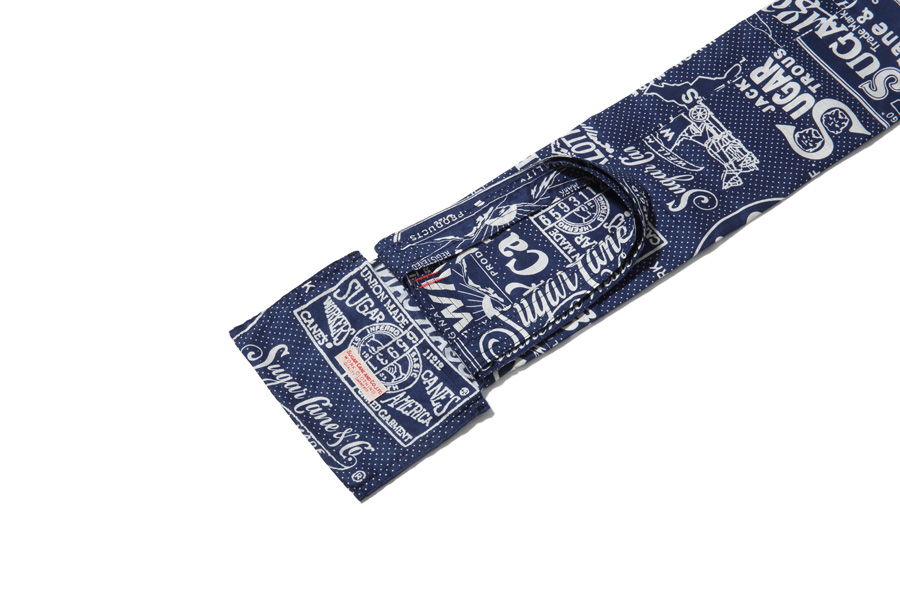 (1)バンダナトートバッグをたたむ際はテーブルなどの平面に置き、まず内ポケットを取り出す。(2)バッグの本体部分の左右を内ポケットの幅に合わせてたたみ、持ち手の部分を本体側へ下げる。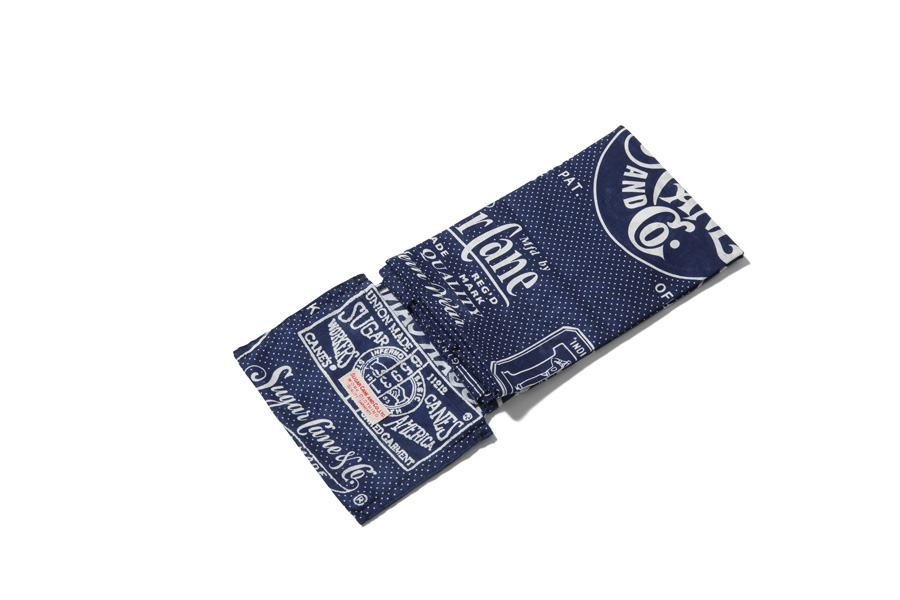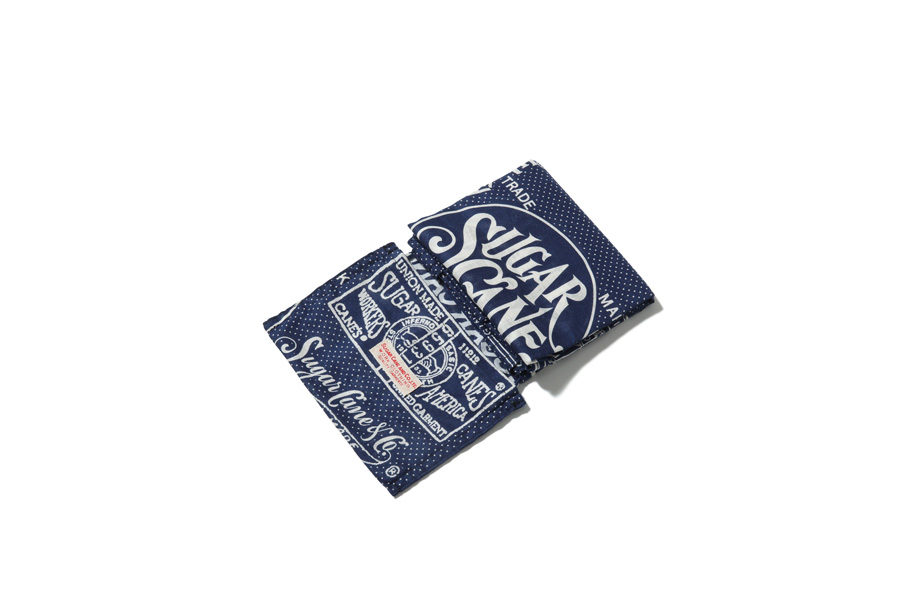 (3)持ち手の部分をはさみ込むよう、バッグ本体を二つ折りにする。(4)本体部分をさらに二つ折りにして、内ポケットに入れ込めば完成。ジーンズのポケットに収まるサイズで持ち運びできる。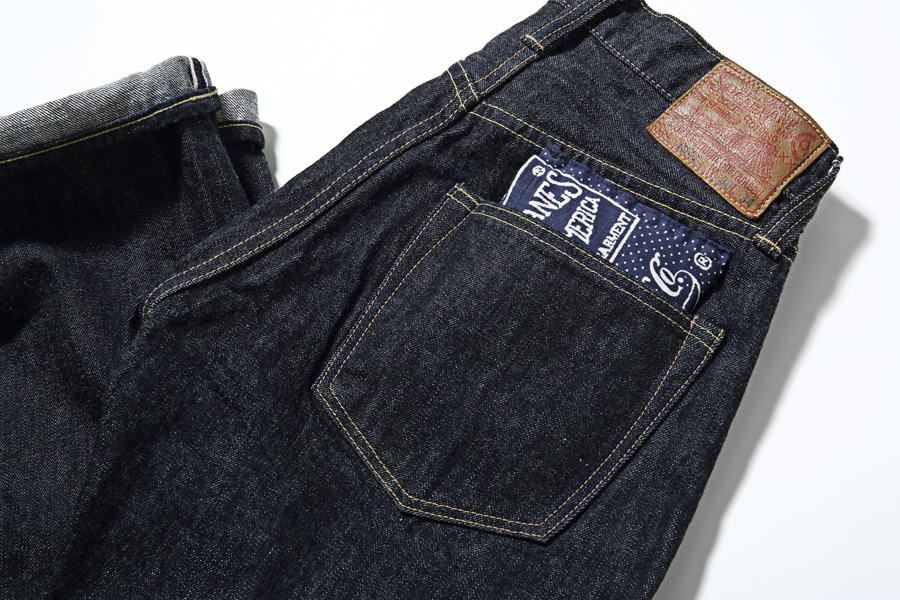 本体部分に使っている2枚のバンダナは裁断をしておらず、バンダナの幅54cmをフルに生かして脇にマチを設けてあり、容量に余裕をもたせている。また、このバッグはシュガーケーンのワークウェアを手掛ける工場で製作しているので、下糸がチェーンステッチの2本針巻き縫い、補強の赤いバータックなど、ハンドメイド品とは一線を画すインダストリアルな仕上がりとなっているのも特徴。
Because the bags are manufactured in Sugar Cane jeans factory, they are produced by the same craftsmanship and equipment such as 2-needle lap fold sewing machines and bar-tack machines as one for Sugar Cane jeans.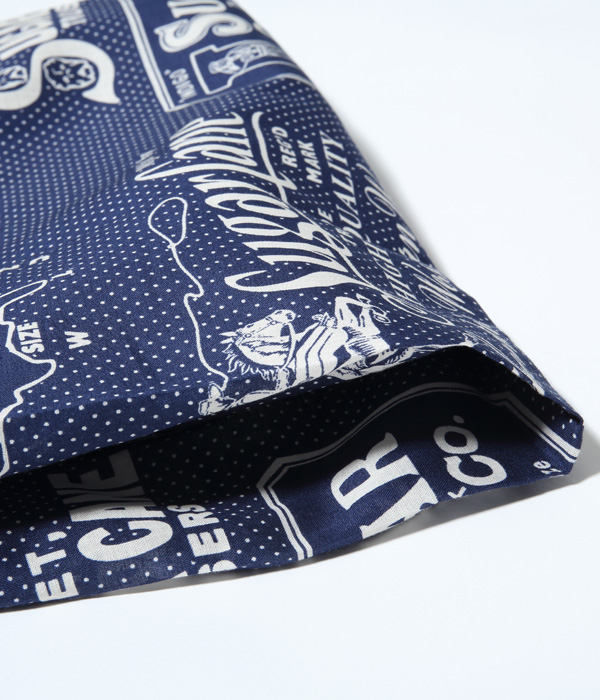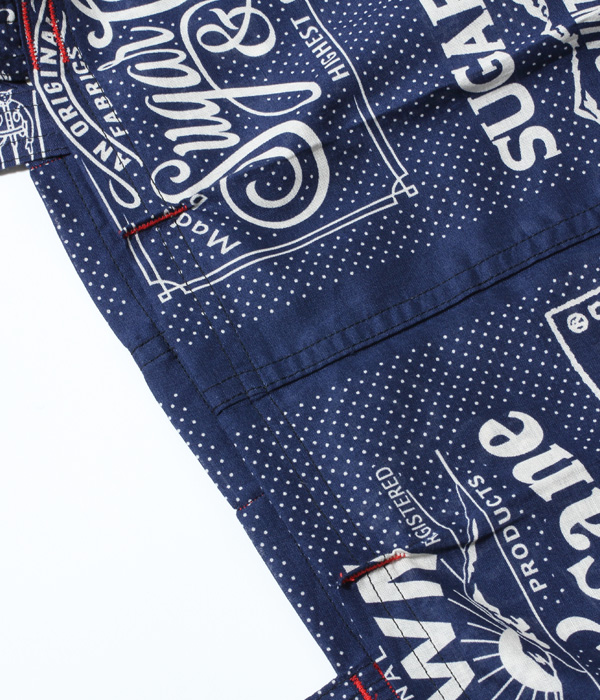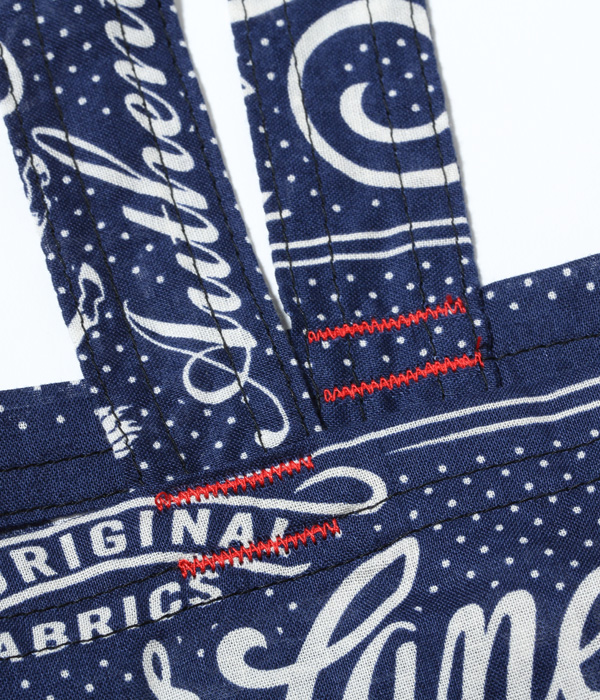 SUGAR CANE / Lot No. SC02655 / SUGAR CANE BANDANNA TOTE BAG
size : H39cm × W35cm × D16cm
color : 128) NAVY
¥4,800 + tax
※収容量は約21Lとなりますが、薄手のバンダナ生地を使用しておりますため耐荷重は7~8kgを目安としてご使用ください。また鋭利な物の収容はお避けください。